Dairy exports 2022/23
12 September 2023
|
Agricultural Trade

Dairy exports 2022/23
12 September 2023
|
Agricultural Trade
Dairy commodity overview
Australian dairy export value fell $96.5 million (-3.0 per cent) to $3.07 billion in 2022/23, the third highest value on record.
Strong export value was driven by record average export prices but characterised by reduced volumes.
Easing global prices, increased global production but high Australian farmgate milk prices will see Australian dairy export value decline in the 2023/24 season.
Trade performance in 2022/23
Australian dairy exports in 2022/23 totalled $3.07 billion. This was a 3.0 per cent decline on last season's record $3.17 billion, but still the third highest value on record. In stark contrast, the volume of Australian dairy exports totalled just over 400 thousand tonnes, the lowest amount in over 28 years. Australian milk production of 8.14 billion litres in 2022/23 was the lowest total in 30 years. This limited Australia's exportable surplus and drove local farmgate milk prices to record highs. The impact of low domestic production was partially offset by strong global dairy prices which reached 15-year highs throughout 2022/23 to support the elevated value of exports.
The theme of low volume, high value exports was consistent throughout the various dairy commodity groups. Milk powder exports totalled just over 175 thousand tonnes, the second lowest amount since 1995/96. But a record average export price of $7,480 per tonne saw total value of $1.3 billion, the fourth highest on record. The total value of cheese and skim milk powder (SMP) exports in 2022/23 were both the second highest in 28 years. But the volume of cheese and SMP exports (both around 128 thousand tonnes in 2022/23) were the second and fourth lowest amounts respectively since 1995/96. The one dairy group to buck the trend was whole milk powder (WMP). The average price of WMP exports lifted 28.1 per cent year-on-year to a record high $9,095 per tonne. But 28-year low volume of 21 thousand tonnes equated to export value of $192 million, the lowest since at least 1995/96.
Major export markets
The position of Australia's top five dairy export markets remained unchanged year-on-year. In fact, it has been more than 12 years since the top five was not occupied by the current list. In 2022/23, Japan and China were the only countries in the top eight dairy export markets to record increased value year-on-year.
China retained the title of Australia's most valuable dairy market by a considerable margin, marking the sixth consecutive year at the top. China purchased a total of $1.11 billion worth of dairy products in 2022/23, accounting for 36 per cent of total export value. This broke the previous year's record value of $1.10 billion by 1.1 per cent. By value, SMP made up 55 per cent of China's dairy imports from Australia. The high price of dairy exports did deter China's purchasing though, with volume of milk imported down 56 per cent, and solids down 10 per cent year-on-year. SMP was the only dairy product to record a volume increase year-on-year, up 3.1 per cent to a record 74 thousand tonnes.
Japan was Australia's second most valuable dairy market in 2022/23 with 14 per cent market share. You have to go back more than ten years for the top two spots to be occupied by any countries other than China and Japan. While China's appetite for Australian dairy has grown, Japan's has remained stable. The value of Australian dairy exports to Japan lifted 9.5 per cent year-on-year to $423 million. This was driven by increased value of cheese exports which made up 93 per cent of total value. But again, record high export prices offset volume at 20-year lows. Japanese imports of fresh milk were down 76 per cent, and solids down 13 per cent year-on-year. A 25 per cent increase to the average export price saw the value of cheese exports to Japan lift 11 per cent year-on-year to $395 million.
Indonesia has been Australia's third most valuable dairy export market in nine of the past ten seasons. Indonesia purchased $251 million of Australian dairy products in 2022/23, a decline of 2.8 per cent from the previous season's record high. Record high average export price of all commodity groups saw the volume of dairy products exported to Indonesia fall 42 per cent year-on-year. SMP has traditionally been the highest valued dairy commodity exported to Indonesia. This was the case again in 2022/23 with SMP making up 58 per cent of the total value of dairy exports to Indonesia. While the total value of SMP exports to Indonesia fell seven per cent, volume declined 27 per cent year-on-year.
Singapore and Malaysia rounded out the top five following similar themes. The total value of dairy exports to Singapore declined 19 per cent year-on-year to $168 million, a 17-year low. Malaysia's 25 per cent year-on-year decline to $151 million was the lowest in the past five years. By volume, Singapore purchased 35 per cent less solids and 16 per cent less liquids year-on-year. Malaysia took 36 per cent less solids and 34 per cent less liquids than last year.
Outlook for 2023/24
The total value of Australian dairy exports is forecast to decline in the 2023/24 season. Export value is expected to fall around 20 per cent year-on-year to sit in the vicinity of the 10-year average of $2.5 billion. Where the 2022/23 season was characterised by high value, low volume dairy exports, the outlook for the coming season is less positive. Australian milk production is expected to be lower year-on-year, limiting available exportable surplus. This indicates dairy export volumes will be similar or lower than the previous season. Decreased local production in 2022/23 saw Australian farmgate prices reach record highs. Reduced global production in 2022/23 drove global prices to 15-year highs but also maintained demand for Australian dairy exports. Improved production in the EU, US and Argentina in 2023 has seen global dairy prices fall below average. Export demand remains relatively lacklustre as inflation and cost of living pressures weigh on consumer appetite. Meanwhile, a small domestic pool means Australian farmgate prices remain near record highs as processors compete for supply. A preference for Australian products from some export consumers will see demand remain. This will be the case particularly for higher end products in fresh milk, cheese and butter. But the high cost of Australian dairy will impact export competitiveness. This mix of low global prices, flat export demand and high Australian prices will likely lead to the value of dairy exports declining in 2023/24.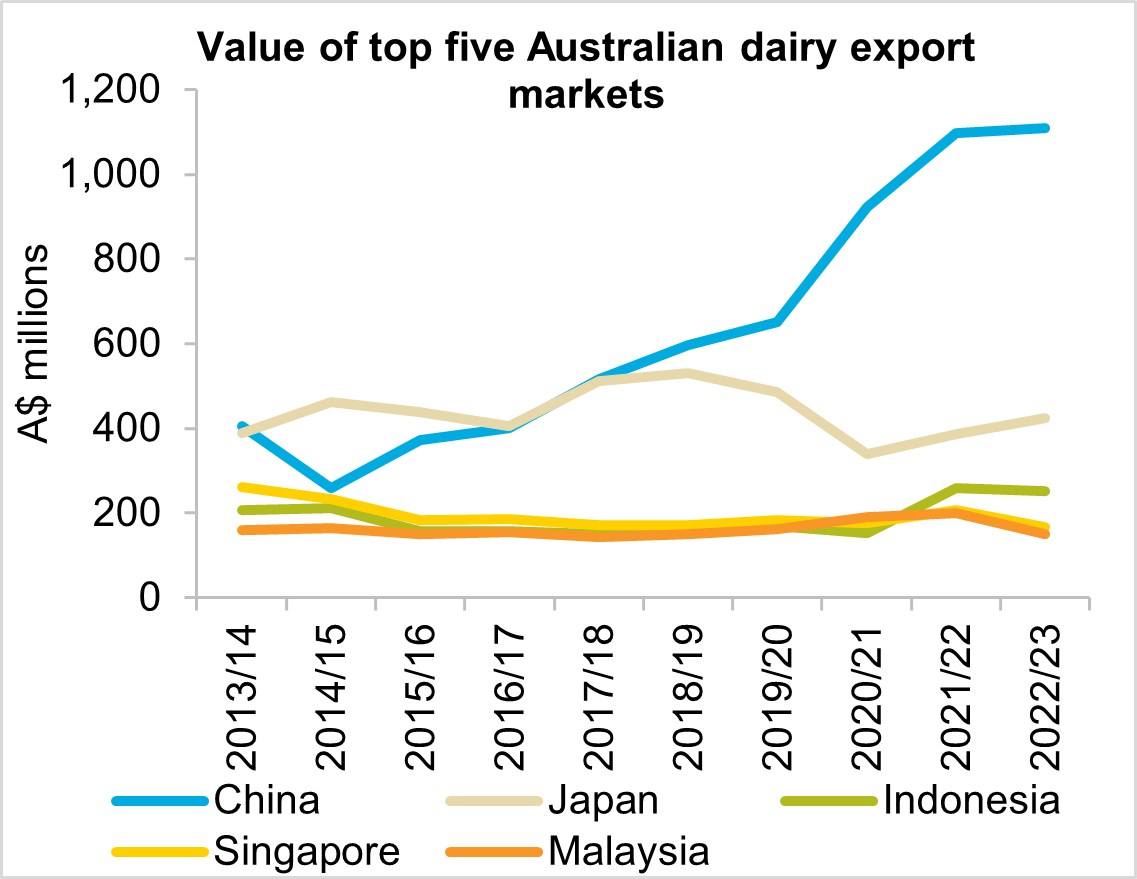 Source: Global Trade Atlas
Explore our other trade performance deep dives
Any advice provided in this update is of a general nature only and does not take into account your personal needs, objectives and financial circumstances. You should consider whether it is appropriate for your situation. Please read the applicable Product Disclosure Statement(s) on our website (
www.bendigobank.com.au
) before acquiring any product described in this update.
Subscribe to insights today
Receive reports direct to your email by subscribing to Rural Bank Insights.