Michael Curtis (Senior Agricultural Analyst)
Understanding consumption of Australian lamb is more important than ever as the industry continues to expand and looks for new consumers.
Record production of Australian lamb
After a few years of rebuilding the national sheep flock following drought, the Australian sheep industry is in a high supply environment. Data from the Australian Bureau of Statistics (ABS) confirmed that 2022 was a record year for lamb production. Lamb production rose 5.1 per cent in 2022 to 534,235 tonnes. This was driven by increases in both lamb slaughter numbers and average carcass weights. Slaughter rose three per cent but was only the 8th highest on record. This was boosted by a 2.1 per cent rise in average carcass weight which reached a record high of 25kg. Favourable seasonal conditions in the past three years have enabled flock expansion which has increased slaughter volumes. Conditions have also assisted lambs to grow to heavier weights.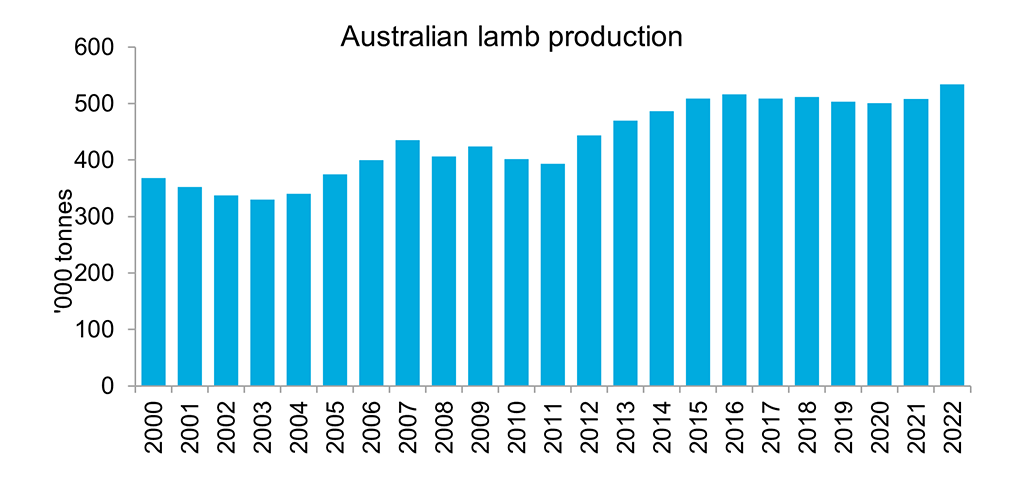 Source: Australian Bureau of Statistics (ABS)
Production flowing through to exports
Record production also led to a record volume of lamb exports in 2022. Exports rose by 5.9 per cent to just under 300,000 tonnes. This meant that exports were equivalent to 56 per cent of production. In addition to increased volume, the average price of lamb exports rose 13.6 per cent in 2022. This drove the value of lamb exports 20 per cent higher to a new record high of $3.4 billion.
Growth in lamb production is expected again in 2023, taking the industry further into record territory. This additional production growth will create a larger exportable surplus. If domestic consumption remains at average levels, we could see a 10 per cent increase in the volume available for exports.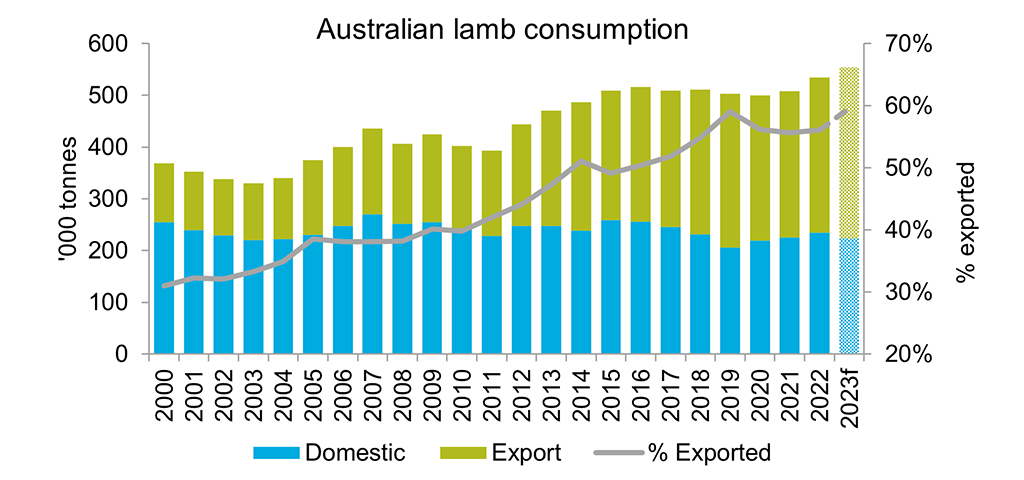 Source: ABS, Global Trade Atlas (GTA), Rural Bank
Stable domestic consumption
Before looking at the opportunity in export markets, it is worth remembering that the domestic market remains the largest single market for Australian lamb. Australian's are among the highest consumers of lamb in the world. The average Australian consumes around 8kg of lamb each year. But that is about 5kg less than they consumed in 2000. The decline in per capita lamb consumption coincides with the greater prevalence of chicken in the Australian diet. However, while per capita consumption has steadily declined, the number of consumers has risen. There are now almost seven million more Australians compared to 2000. More consumers, but each eating less lamb, has kept domestic production relatively stable. The good news is that per capita consumption appears to have stabilised. This could lead to domestic consumption steadily rising in line with further population growth going forward. But for 2023, we are expecting some stability in domestic consumption.
The opportunities in export markets
With extra lamb production and stable domestic consumption, finding opportunities of demand growth in export markets will be key for 2023. Australian lamb had 27 export markets larger than $10 million in 2022. Of those, 21 saw growth in 2022.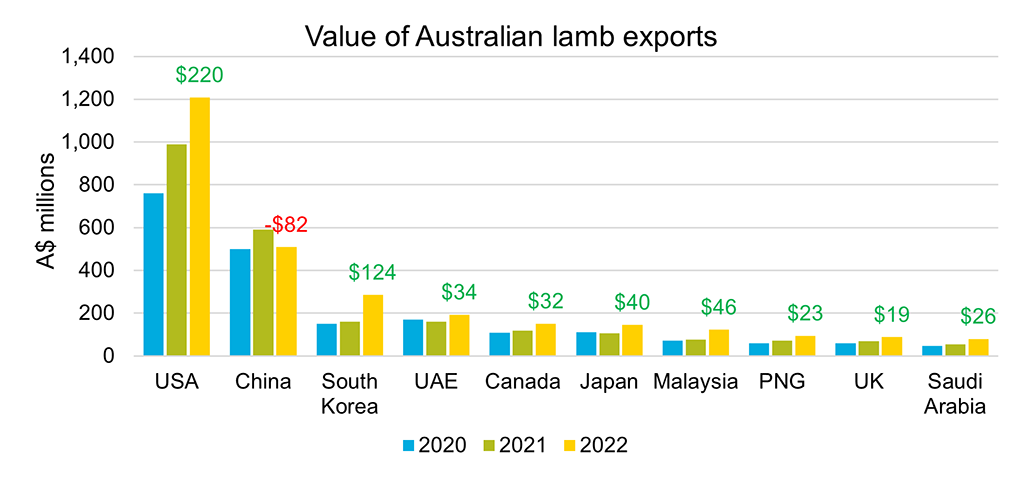 Source: GTA
Exports to the US jumped 22.3 per cent to see the US become Australian lamb's first billion dollar market. At $1.2 billion, the US accounted for 36 per cent of total value. Unlike Australia, lamb consumption in the US has been growing. In the last 10 years, US lamb consumption has risen by almost 60 per cent. Per capita consumption is very low at around 600 grams compared to beef at 25kg. This shows a significant opportunity to grow per capita consumption and familiarise more consumers with lamb. While consumption has been rising, domestic production in the US has been falling. The US now produces around 27 per cent of total supply. This has opened the door for greater import volumes. Australia supplied approximately 57 per cent of all sheepmeat supply in the US in 2022 while New Zealand supplied around 15 per cent. The reliance on imports is expected to continue growing as the US sheep flock is currently the smallest on record. This should create further opportunities for Australian exports. However, the demand outlook is weaker in 2023 due to poor economic conditions affecting consumer spending on foodservice and premium meats. We may not see much, if any, growth to the US in 2023, but the longer-term opportunities are very positive.
China retained its place as Australia's second most valuable export market in 2022 with 15 per cent of total value. This was despite China being the only market in the top 10 to see a decline in value in 2022, falling 13.8 per cent. This trend is set to reverse in 2023 as China emerges from COVID lockdowns and restrictions which suppressed demand in 2022. This is expected to lead to improved demand through foodservice channels where two-thirds of sheepmeat is consumed in China.
The next eight largest markets accounted for a combined $1.16 billion, or 34 per cent of total value. Amazingly, these markets grew by a combined $343 million, or 41.9 per cent, in 2022. This group of countries represents a range of exciting opportunities to expand the demand base of Australian lamb. This will be much needed as we look to the outlook for the next few years as Australian lamb supply expands further.
Within this group are some important markets in the Middle East such as the UAE. In 2022, exports to the UAE recovered back to 2019 levels after two years of COVID-related disruptions. In addition to the UAE recovery, Saudi Arabia emerged as a more significant market with growth of 47 per cent. The outlook for Middle Eastern demand remains positive due to international travel continuing to recover and the region's relatively upbeat economic outlook.
Also within our top 10 markets is a group of smaller, but growing emerging markets for lamb in South Korea, Canada, Japan, Malaysia and PNG. Individually they are about 3-8 per cent of total lamb exports. While they are not big contributors to the industry yet, there is plenty of confidence to take from the growth trends seen in the past few years to these markets. They represent a widening and diversifying demand base for Australian lamb and have potential to continue growing in-line with Australian production.
Finally, a market of real interest this year is the UK. The UK has been a relatively small market for Australian sheepmeat exports recently at 2.6 per cent of export value in 2022. Exports have been heavily restricted by tariffs carried over from the UK's time in the EU. However, under the Australia-United Kingdom Free Trade Agreement (A-UKFTA) Australian sheepmeat gets a duty-free quota of 25,000 tonnes straight away. This would be almost three times the volume we have average in the past five years and 50 per cent above our largest export year in the last 20 years. The quota rises to 75,000 tonnes after 10 years which would put the UK as our 3rd largest market if demand exists to fill the quota. This represents a fantastic development which creates potential for a significant volume of exports to a market that is very familiar with lamb and pays premium prices for it. This will be a great addition to the range of exports markets for Australian lamb once the agreement comes into effect.
What this means for the rest of 2023
The degree to which export demand exists and can be accessed will be key for the direction of lamb prices in 2023. Australian lamb benefits from a wide and diverse range of export markets. Across these markets there are opportunities to tap into growing demand. This is pivotal for the continued success of the industry as it pushes further into record territory for production.
This article is intended to provide general information on a particular subject or subjects and is not an exhaustive treatment of such subject(s). The information herein is believed to be reliable and has been obtained from public sources believed to be reliable. Rural Bank, a Division of Bendigo and Adelaide Bank Limited, ABN 11 068 049 178 AFSL/Australian Credit Licence 237879, makes no representation as to or accepts any responsibility for the accuracy or completeness of information contained in this report. Any opinions, estimates and projections in this report do not necessarily reflect the opinions of Rural Bank and are subject to change without notice. Rural Bank has no obligation to update, modify or amend this article or to otherwise notify a recipient thereof in the event that any opinion, forecast or estimate set forth therein, changes or subsequently becomes inaccurate. This article is provided for informational purposes only. The information contained in this article does not take into account your personal circumstances and should not be relied upon without consulting your legal, financial, tax or other appropriate professional.
Subscribe to insights today
Receive reports direct to your email by subscribing to Rural Bank Insights.