What has caused high prices?
In 2021, China announced restrictions on exports of phosphate. China is the world's largest supplier of phosphate-based fertilisers, and herbicide glyphosate globally. This caused prices to skyrocket, but they started easing at the end of 2021. Russia's invasion of Ukraine in early 2022 exacerbate prices. Russia is a major supplier of urea, the most widely used nitrogen based fertiliser. Natural gas, also a key export of Russia's, is a key component in the production of urea. Russia's invasion of Ukraine interrupted supply of both gas and urea production. Along with the high cost of freight, this saw the price of urea reach highs of A$1,250 per tonne on a Free On Board (FOB) basis in April 2022.
How are prices looking now?
It is difficult to provide an exact landed price of fertiliser to Australian growers due to variations in freight and retail costs. FOB (Free On Board) is a measure of the cost of goods at the port of origin. The FOB price of Urea from Black Sea ports sat at around A$769 per tonne at the start of 2023. This is down 38 per cent, or A$481 per tonne on highs seen last year. While this is good news, prices are still almost double the five-year average before 2022.
How are growers managing costs?
The chart below compares the FOB Black Sea price of urea to Western Australian APW wheat.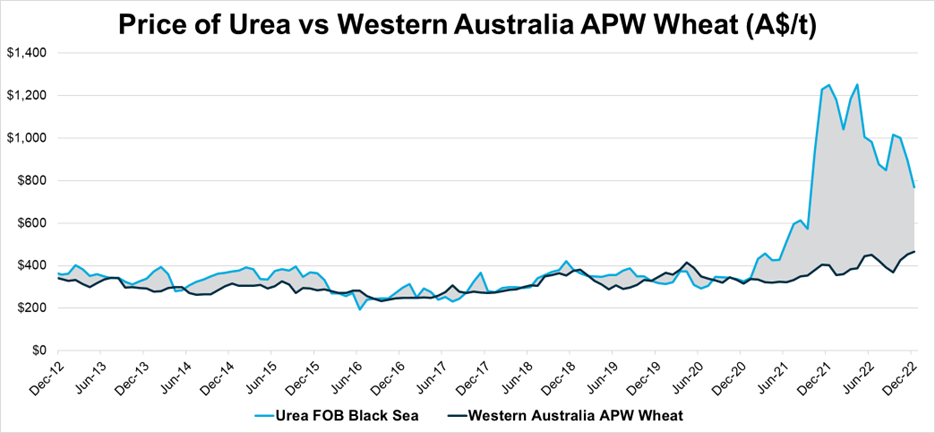 Sources: Index Mundi & Profarmer Australia
Despite being well above average, the price of wheat has not kept up with the price of urea. To put it into context, at current prices growers would need to sell 1.7 tonnes of wheat to buy one tonne of urea. At the peak of Urea prices, growers had to sell 3.3 tonnes of wheat to make the cost of one tonne of urea.
A record winter crop has just been harvested in Australia. Average wheat yields across Australia are estimated to have been around 2.8 tonnes per hectare. Five-year average yields are closer to 1.9 tonnes per hectare. Higher yields per hectare means that the increased cost of fertiliser has been papered over somewhat.
What will prices do in 2023?
Because Australia relies heavily on imported fertiliser, prices will be dependent upon international factors. Prices are expected to ease, but some products more than others. Nitrogen based fertilisers like urea are likely to be volatile but remain above average due to their reliance on gas. The unpredictable nature of conflict in the Black Sea will continue to hold prices well above average. Phosphate and Potash prices are forecast to continue to ease but will remain above average through 2023.
With long term weather outlooks suggesting a return to drier conditions in 2023, growers will need to be smart about their fertiliser usage to ensure profitable margins.
This article is intended to provide general information on a particular subject or subjects and is not an exhaustive treatment of such subject(s). The information herein is believed to be reliable and has been obtained from public sources believed to be reliable. Rural Bank, a Division of Bendigo and Adelaide Bank Limited, ABN 11 068 049 178 AFSL/Australian Credit Licence 237879, makes no representation as to or accepts any responsibility for the accuracy or completeness of information contained in this report. Any opinions, estimates and projections in this report do not necessarily reflect the opinions of Rural Bank and are subject to change without notice. Rural Bank has no obligation to update, modify or amend this article or to otherwise notify a recipient thereof in the event that any opinion, forecast or estimate set forth therein, changes or subsequently becomes inaccurate. This article is provided for informational purposes only. The information contained in this article does not take into account your personal circumstances and should not be relied upon without consulting your legal, financial, tax or other appropriate professional.
Subscribe to insights today
Receive reports direct to your email by subscribing to Rural Bank Insights.