By Michael Curtis (Agricultural Analyst, Rural Bank)
The US might be the world's largest beef producer, but over the past decade, they've been notably absent from the Chinese market. But over the last 12 months American beef exports to China surged with exports in April 2021 more than 10 times greater than April 2020.
So what's triggered the US beef charge, and what could this mean for Aussie cattle prices for the rest of 2021 and beyond?
Opening the door to US beef
China has grown to be the 2nd largest beef consuming nation in the world, behind the US. Chinese consumption has increased by 51% from 2010 to reach 9.5 million tonnes in 2020.
Local production has been unable to keep up with the rate of growth, which has seen China become the world's largest beef importer. In 2020, China imported 2.8 million tonnes of beef, a phenomenal increase from 38,000 tonnes in 2010.
Australia was one of the first countries to capitalise on growing Chinese demand for beef imports. We accounted for more than 50% of the market in 2013 before South American suppliers entered the fray. While competition for a slice of the market strengthened, Australia was still able to increase exports. Australian beef exports to China peaked at almost 330,000 tonnes, worth $2.7 billion in 2019.
Perhaps most significantly though, we've benefitted from a lack of competition from the United States.
But that all changed in 2020 with the introduction of the Phase One trade agreement between the US and China. This opened the door for US beef to enter China in greater volumes.
Seizing the opportunity
The US' absence from the Chinese beef market can be largely attributed to a range of trade restrictions. But as of 15 January 2020, the China Phase One trade agreement not only eased restrictions for the US, it also requires China to purchase US$80 billion in agricultural products across 2020 and 2021. This effectively gives preference to US products over other suppliers.
The US capitalised on improved market access in 2020 by increasing beef exports to China by 271% to just over 54,000 tonnes. Despite a strong improvement, this volume still represented only three percent of Chinese beef imports and was only a quarter of the volume Australia exported to China. The opportunity for further growth was huge.
Building momentum in 2021
The rapid growth trajectory of US beef exports to China has continued in early 2021. After only four months, 2021 is already a record year for US beef exports to China, exceeding exports from all of 2020. Exports in April alone, when 22,500 tonnes were shipped to China, beat the total for any year before 2020.
With year-to-date exports of over 63,000 tonnes, China has ascended to be the third largest export market for US beef in 2021 behind Japan and South Korea.
A new competitor for Australia
It's been a perfect storm for US beef: at the same time as their exports to China have surged, Australian exports have fallen.
Reduced beef supply coupled with suspended access to China for some Australian beef processors have restricted export volumes to China in the last 18 months. As a result, Australian beef exports to China fell by 34% in 2020 and have plateaued in early 2021 at an average of 14,000 tonnes per month.
The converging trends saw US beef exports to China close the gap to Australian exports and exceed Australian volumes in March and April. In April 2020, Australia exported nearly 13 times the volume of beef the US exports to China. But the tables have turned dramatically as the US exported 58% more beef to China than Australia in April 2021.
Australian beef now has another serious competitor in the Chinese market.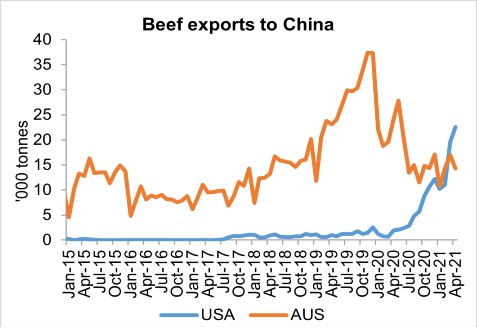 Source: Global Trade Atlas, United States Department of Agriculture
Where does that leave Aussie beef?
The US appears set to continue capturing Chinese market share away from Australia in 2021. A 9% increase in total US beef exports in 2021 forecast by the United States Department of Agriculture will likely see more US beef entering China, while a 12% decline in Australian beef exports forecast by Meat and Livestock Australia will see even less Australian beef go to China.
Competition from the US in China may not translate to downward pressure on Australian cattle prices in 2021. Prices remain well supported by domestic factors such as tight supply and strong restocker demand. In addition, Chinese demand will remain elevated due to a resurgence of African Swine Fever (ASF).
Beyond 2021, an established presence of US beef in the Chinese market could be a challenge for Australian beef. Australia will have more beef to export as production is set to recover in 2022 due to herd rebuilding efforts. But at the same time, a potential recovery from ASF could see China import less beef than recent years. Stronger competition for a slice of a smaller market would add downward pressure to prices.
This article is intended to provide general information on a particular subject or subjects and is not an exhaustive treatment of such subject(s). The information herein is believed to be reliable and has been obtained from public sources believed to be reliable. Rural Bank, a Division of Bendigo and Adelaide Bank Limited, ABN 11 068 049 178 AFSL/Australian Credit Licence 237879, makes no representation as to or accepts any responsibility for the accuracy or completeness of information contained in this report. Any opinions, estimates and projections in this report do not necessarily reflect the opinions of Rural Bank and are subject to change without notice. Rural Bank has no obligation to update, modify or amend this article or to otherwise notify a recipient thereof in the event that any opinion, forecast or estimate set forth therein, changes or subsequently becomes inaccurate. This article is provided for informational purposes only. The information contained in this article does not take into account your personal circumstances and should not be relied upon without consulting your legal, financial, tax or other appropriate professional.
Subscribe to insights today
Receive reports direct to your email by subscribing to Rural Bank Insights.