Michael Curtis
(Senior Agricultural Analyst)
The signing of a new trade agreement usually comes with plenty of fanfare. India has been a key market Australia was lacking a trade agreement with. In early April, the Australia-India Economic Cooperation and Trade Agreement (AI-ECTA) was signed. This brings some positive outcomes for Australian agriculture. In this post we look at the Indian market and five commodities which will benefit the most from AI-ECTA.
The AI-ECTA, signed on 2 April 2022, is an interim deal and a significant step toward the Australia-India Comprehensive Economic Cooperation Agreement (AI-CECA) at a later date. This is an important milestone in unlocking a market which has recently been a relatively minor one for agricultural exports but one which has the potential for extraordinary growth.
India was Australia's 24

th

most valuable export market in 2020/21
Australia exported $375 million worth of agricultural commodities to India in 2020/21. This accounted for only 0.8 per cent of the total value of Australian agricultural exports. Despite its low ranking in 2020/21, India was Australia's fourth most valuable export market as recently as 2016/17. In that year, Australia exported almost $3 billion of agricultural goods to India, or six per cent of total export value. This was only one of three years that Australian agricultural exports to India have exceeded $1 billion. As the chart below shows, 2016/17 was a clear outlier. This was driven by a strong level of chickpea exports which have not been seen before or after.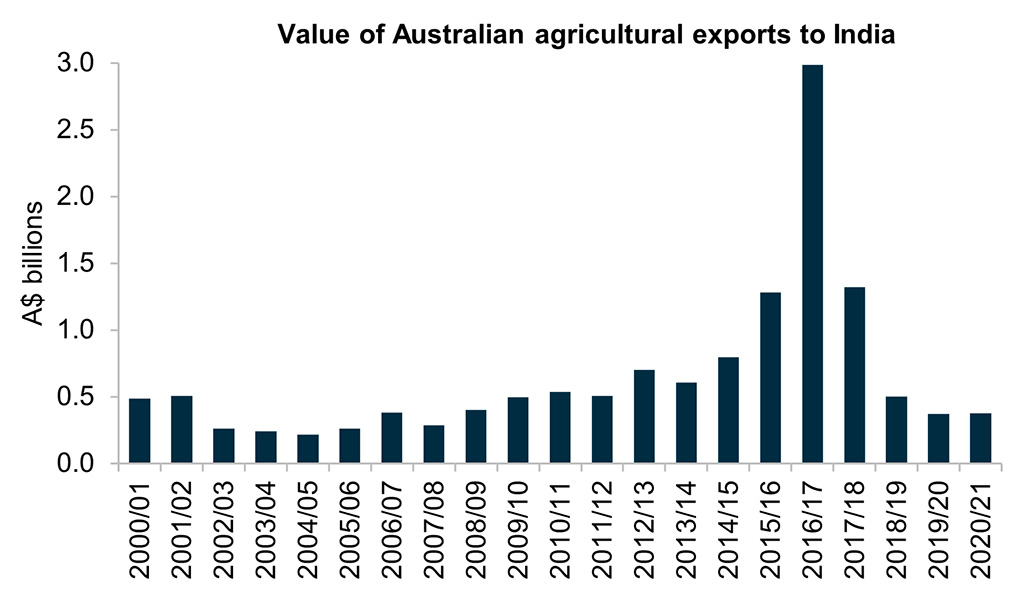 Source: Global Trade Atlas (GTA)
Major commodities exported to India
Wool has historically been Australia's most valuable export commodity to India. India is Australia's second largest export market for wool, behind China, but only accounted for 5.7 per cent of the total value of wool exports over the last five years.
The value of wool exports has declined in the last three years which led to almonds rising to be the most valuable commodity in 2020/21. Similarly to wool, India is the second largest market for Australian almonds behind China, accounting for 20 per cent of the total value of almond exports over the last five years.
India is also an important market for Australian lentils, accounting for 20.3 per cent of the total value of lentil exports over the last five years. This ranks India as the third most valuable lentil market behind Bangladesh and Sri Lanka.
Chickpea exports to India have a high average value over the last five years. However, this is due almost exclusively to 2016/17 when Australia exported $1.1 billion of chickpeas to India. This accounted for 59 per cent of total chickpea exports that season. Exports were around $600 million in the years before and after and have only averaged $3.6 million in the last three years.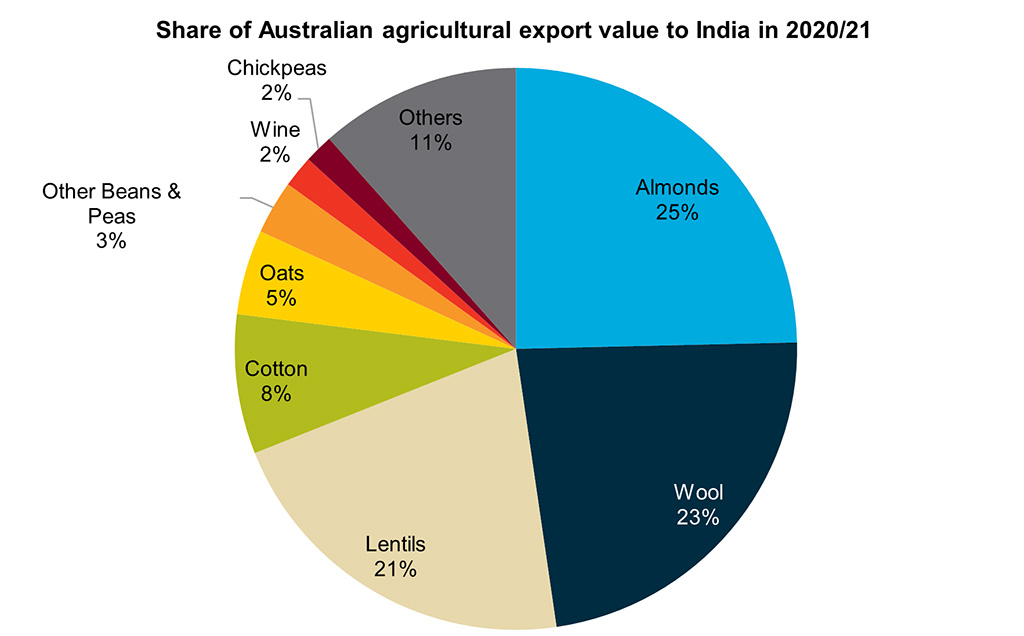 Source: Global Trade Atlas (GTA)
The modest scale of recent Australian agricultural exports to India demonstrates the impact heavy trade barriers have had on the ability to capture demand from this large and growing economy. But it also highlights what an exciting opportunity it is for Australian agriculture to finally have improved access to this market.
5 commodities with the greatest benefits from improved access to India
Sheep meat
Sheep meat exports will benefit from an immediate elimination of the current 30 per cent tariff when AI-ECTA enters into force. This tariff has proved prohibitive to Australian sheep meat entering India. Exports have averaged just over $350,000 per year in the last five years, or 0.01 per cent of total Australian sheep meat exports. This adds to the benefits to sheep meat achieved under the Australia-United Kingdom Free Trade Agreement to give Australian sheep meat exports further opportunities to diversify export markets.
Almonds
Almonds, the most valuable commodity Australia exported to India in 2020/21, are set to enjoy improved access to India under AI-ECTA. Australian almonds will benefit from an immediate tariff reduction of 50 per cent to a quota of 34,000 tonnes per year. The current tariff is Rs 35/kg for in shell almonds and Rs 100/kg for shelled almonds. The majority of Australian almonds are exported to India in shell. The largest volume of almonds exported to India was just under 24,000 tonnes in 2016/17 and 2017/18 so a quota of 34,000 tonnes gives plenty of room for exports to expand without being subject to full tariff rates. The 34,000 tonne quota equates to 44 per cent of the average volume of Australian almonds exports in the last five years. Improved access has been welcomed by the Australian almond industry however there is a desire for further tariff reductions under a comprehensive trade agreement.
Wool
Wool exports will see the current tariff of 2.5 per cent eliminated on entry into force (EIF). This is a modest benefit for one of Australia's most valuable export commodities to India. However, an increase in India's wool processing capacity would be required to really enhance the opportunities to expand exports.
Lentils
Lentil exports will receive some benefit under AI-ECTA with an immediate tariff reduction of 50 per cent to a quota of 150,000 tonnes. The current tariff is zero so there will not be much of an immediate benefit of this outcome. However, a tariff of between 10 to 30 per cent was imposed between late-2017 and early-2022. The quota of 150,000 tonnes does not represent a large gain for Australian lentils. Over the last five years Australia has exported an average of 120,000 tonnes of lentils to India per year with a maximum volume of 232,000 tonnes in 2016/17. These outcomes may also be of limited benefit as Canada, a much larger exporter of lentils to India, is also negotiating a free trade agreement and could receive equal or better access.
Wine
Wine exports will benefit from a gradual reduction in tariffs over the next 10 years. For bottles valued over US$5, the tariff will reduce from 150 per cent to 100 per cent on EIF and progressively decline to 50 per cent. Bottles valued over US$15 will enjoy a greater reduction from 150 per cent to 25 per cent over 10 years, including an immediate reduction to 75 per cent on EIF. This level of access could improve further with India committing to extend any improvements granted to future trade agreement partners to Australia as well. Reduce tariffs will be welcomed by the Australian wine industry as they seek to expand into new markets following the introduction of prohibitive tariffs on exports to China.
The commodities that miss out…for now
There are some commodities that missed out on any improvements to market access under this interim agreement. Most notable are chickpeas and dairy.
Improved access for chickpeas would have arguably been the best possible outcome of this trade agreement. India is the largest consumer of chickpeas and has the potential to be a lucrative market for Australia, as seen in 2016/17. A lack of improvement in AI-ECTA means Australian chickpeas remain subject to a prohibitive tariff of 66 per cent.
Australian dairy exports to India are set to remain at a low level with no improvements to access. India has only accounted for 0.02 per cent of Australian dairy exports in the last five years with an average annual value of under $500,000. India sees imports as a threat to the local industry.
What happens next?
Although the agreement has been signed the benefits are not yet active. Commodities will be able to take advantage of improved market access when the AI-ECTA enters into force. This will be 30 days after the parliaments of both countries have ratified the agreement. This will hopefully be later in 2022.
This article is intended to provide general information on a particular subject or subjects and is not an exhaustive treatment of such subject(s). The information herein is believed to be reliable and has been obtained from public sources believed to be reliable. Rural Bank, a Division of Bendigo and Adelaide Bank Limited, ABN 11 068 049 178 AFSL/Australian Credit Licence 237879, makes no representation as to or accepts any responsibility for the accuracy or completeness of information contained in this report. Any opinions, estimates and projections in this report do not necessarily reflect the opinions of Rural Bank and are subject to change without notice. Rural Bank has no obligation to update, modify or amend this article or to otherwise notify a recipient thereof in the event that any opinion, forecast or estimate set forth therein, changes or subsequently becomes inaccurate. This article is provided for informational purposes only. The information contained in this article does not take into account your personal circumstances and should not be relied upon without consulting your legal, financial, tax or other appropriate professional.