Claudia Kirby (Agricultural Analyst)
Each month the United States Department of Agricultural (USDA) releases its World Agricultural Supply and Demand Estimates (WASDE) report. This influential report can impact grain prices through substantial changes to supply and demand. The February WASDE was bullish for major grains with wheat, corn and soybean futures lifting.
Weather is also a key driver of grain prices as rainfall or lack thereof can have major production ramifications. Australia has just harvested its largest crop on record with above average production in all states. While Australia has good supply, this is not the case for other major grain exporters.
Bulls
First off let us put some context around why production and weather changes at this time of year matter. When looking at the world production calendar, February is on the eve of corn and soybean harvest in South America. Dry conditions in Brazil and Argentina have seen production estimates cut severely. The USDA reduced Brazil's soybean output by 5 million tonnes to 134 million tonnes. However, production could be even lower than this with CONAB (Brazil's agricultural forecasting agency) cutting their estimate to only 125.5 million tonnes. World soybean end stocks were decreased to 92.83 million tonnes, down 2.4 million tonnes from the prior month. Global corn production was also reduced by 1.61 million tonnes to 1.205 billion tonnes. Production cuts in Brazil and Paraguay contributed to this.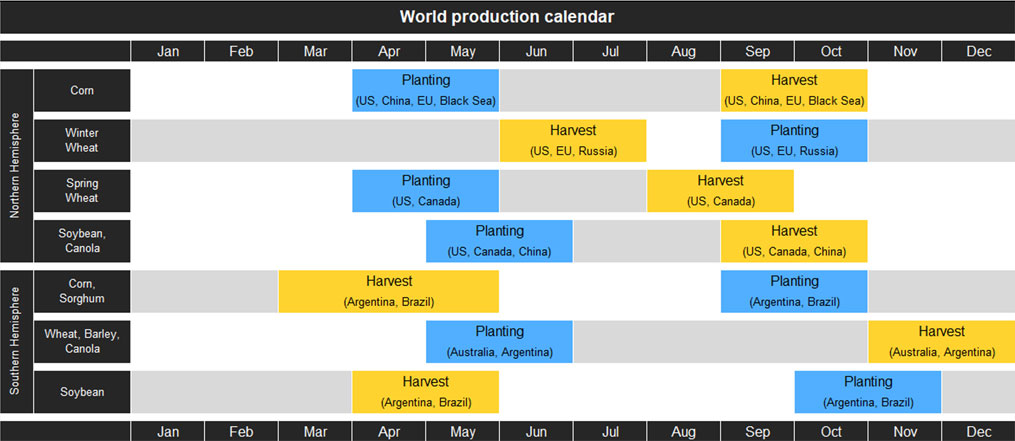 Source: Profarmer Australia
The next couple of months are the crucial growing period for winter wheat crops in the Northern Hemisphere. Currently in dormancy, winter crops will start emerging in March and April. Recent dry weather in the United States has raised concerns for wheat production. Another poor production year in the United States and Canada would provide support for wheat prices. Australia would benefit from reduced production in the Northern Hemisphere with good supply following a record wheat crop of 38.2 million tonnes according to Australian Crop Forecasters.
Bears
The recent WASDE report was bullish for markets but there are some wider trends that are bearish for Australian grain markets. China recently announced it will allow imports of Russian wheat and barley from all regions. Imports had previously been banned due to phytosanitary concerns. This decision means Russia will be able to service Chinese demand which could impact trade flows for Australia. Given Russian production continues to grow due to greater area planted and improvements in yield, they will be able to handle this extra demand without losing too much market share into their other major markets like the Middle East.
Australia is set to export 2.5 to 3 million tonnes of wheat to China this season. While losing some Chinese demand to Russia would impact exports, there are other emerging markets in the Asian region that can pick up this demand. Russia is estimated to export 35 million tonnes of wheat this season, so three million tonnes of extra demand to China is not a significant volume.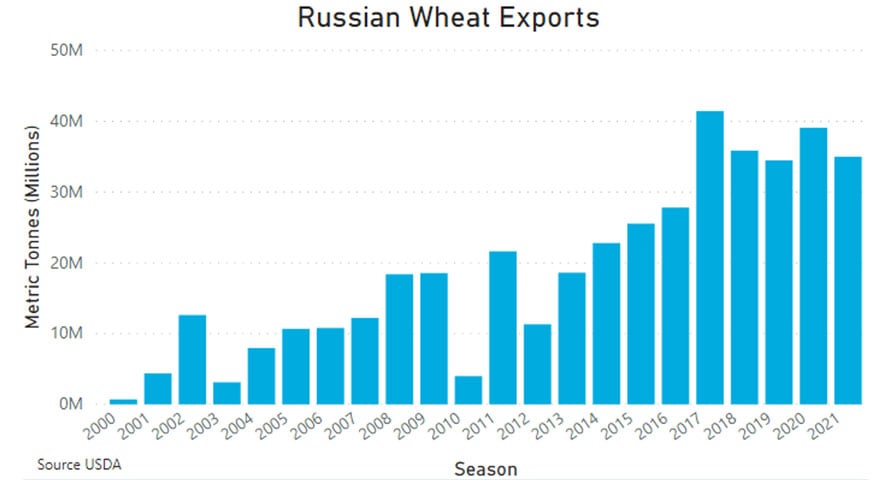 Russian wheat exports have risen strongly in recent years, averaging 37 million tonnes over the last five years. Source USDA
Another emerging challenge for Australian wheat exports is rising production and exports from Ukraine. Australian wheat exports for 2021/22 were left unchanged at 25.5 million tonnes in the February WASDE. Ukraine wheat exports were revised down by 200,000 tonnes to 24 million tonnes. Over time Ukraine has become a larger agri-exporter which creates greater competition for Australian exports. Ukrainian wheat exports have increased since 1995 due to:
the modernisation of their grain supply chain
increased production due to improved yields
lower domestic consumption
devaluation of their currency which supports export competitiveness
Exports out of the Black Sea region will be interesting to watch especially given the current tensions between Russia and Ukraine.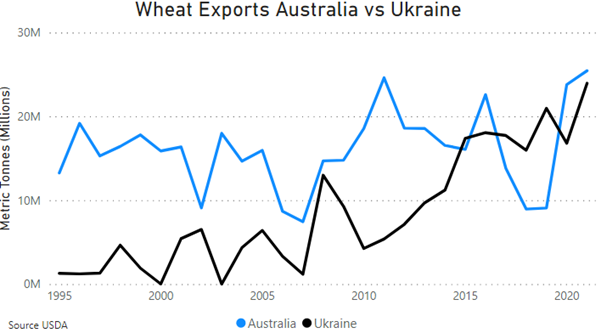 Ukraine wheat exports have increased from 1.3 million tonnes in 1995 to an estimated 24 million tonnes in 2021/22. Source USDA
Sources: Profarmer Australia, USDA, CONAB, BAGE
This article is intended to provide general information on a particular subject or subjects and is not an exhaustive treatment of such subject(s). The information herein is believed to be reliable and has been obtained from public sources believed to be reliable. Rural Bank, a Division of Bendigo and Adelaide Bank Limited, ABN 11 068 049 178 AFSL/Australian Credit Licence 237879, makes no representation as to or accepts any responsibility for the accuracy or completeness of information contained in this report. Any opinions, estimates and projections in this report do not necessarily reflect the opinions of Rural Bank and are subject to change without notice. Rural Bank has no obligation to update, modify or amend this article or to otherwise notify a recipient thereof in the event that any opinion, forecast or estimate set forth therein, changes or subsequently becomes inaccurate. This article is provided for informational purposes only. The information contained in this article does not take into account your personal circumstances and should not be relied upon without consulting your legal, financial, tax or other appropriate professional.
Subscribe to insights today
Receive reports direct to your email by subscribing to Rural Bank Insights.