By Tom Herbert (Junior Agricultural Analyst, Rural Bank)
As AFL and NRL clubs begin to battle for spots in the top four of their codes, we've turned our attention to the top four beef export markets. Total beef exports have declined over the first half of the year compared to 2020, so what has changed and how has this affected the rankings?
A decline in export volumes across the four major players for Australian beef.
The first half of 2021 has seen drastic changes in Australian beef export markets compared to 2020. Exports are down over 100,000 tonnes (-23.%) with declines across the board to all the major countries Australia deals with. This includes Japan, China, South Korea and the United States (US).
The largest change is a 4% decline in exports to the US with only 65,233 tonnes in 2021 compared to 114,399 tonnes at the same time last year. Following the US is a 41 per cent decrease in exports to China with 72,154 tonnes for 2021 and 121,181 tonnes at the same point in 2020. Meanwhile, exports to South Korea have almost kept pace with 2020 and are only down by 1.9%.
So why the changes in 2021?
As discussed in our recent mid-year Outlook report, Australia's beef production has been tight this year, with a decline of 27.2% in average weekly eastern states slaughter for 2021 compared to 2020. So, it's no surprise that export volumes are lower.
In addition to tight Australian supply, the downward trend in exports to China and the US is also likely due to increased US production and trade restrictions between the two countries easing under the China Phase One trade agreement. Continued suspended access to China for several Australian meat exporters is also keeping Australian beef exports to China constrained.
The South Korean market has seen very minimal fluctuation in imports from Australia. Due to their stability, they have risen above China and the United States at the present time. South Korea has seen the smallest change year on year with only a 1.9% decline.
How has this shifted the rankings for Australian beef export markets?
Australia's beef export markets have seen large declines to China and the United States allowing the more stable South Korean market to rise to second in the rankings.
The top 10 countries for Australia's exports are listed below as a total percentage of exports for the 2021 year to date:
Japan – 26.5%
South Korea – 18%
China – 17.1%
USA – 15.4%
Indonesia – 5.6%
Philippines – 3.1%
Taiwan – 2.4%
Saudi Arabia – 1.3%
Thailand – 1.1%
Other – 9.5%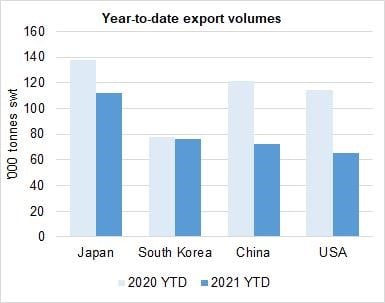 Source: Department of Agriculture, Water and the Environment
For more information download Rural Bank's half yearly outlook report here.
This article is intended to provide general information on a particular subject or subjects and is not an exhaustive treatment of such subject(s). The information herein is believed to be reliable and has been obtained from public sources believed to be reliable. Rural Bank, a Division of Bendigo and Adelaide Bank Limited, ABN 11 068 049 178 AFSL/Australian Credit Licence 237879, makes no representation as to or accepts any responsibility for the accuracy or completeness of information contained in this report. Any opinions, estimates and projections in this report do not necessarily reflect the opinions of Rural Bank and are subject to change without notice. Rural Bank has no obligation to update, modify or amend this article or to otherwise notify a recipient thereof in the event that any opinion, forecast or estimate set forth therein, changes or subsequently becomes inaccurate. This article is provided for informational purposes only. The information contained in this article does not take into account your personal circumstances and should not be relied upon without consulting your legal, financial, tax or other appropriate professional.
Subscribe to insights today
Receive reports direct to your email by subscribing to Rural Bank Insights.