Sean Hickey (Agricultural Analyst)
As growers and wine producers start another busy vintage period, we thought we'd take a look at how things are shaping up for the coming season. The Australian wine industry has faced significant challenges over the past two years, but opportunities remain both locally and abroad. So, without further ado, open a good bottle of Aussie wine and let's take a look at how the current vintage is shaping up.
China is almost all anyone has been talking about when it comes to the wine industry over the past 18 months. Previously our largest wine export market, Aussie wine producers saw the Chinese market disappear in the blink of an eye in late 2020. Wine exports to China plunged 97 per cent from 2019 to 2021 following the imposition of anti-dumping trade tariffs on Aussie wine. This had a particularly large impact on premium red wines, which made up most of our wine exports to China. Last year saw over two million tonnes of wine grapes produced nationally. The loss of the Chinese export market meant there was demand for just 1.4 million tonnes of these grapes. This saw wine inventories increase to 2.1 billion litres by the end of June 2021, the highest levels of inventory since 2005/06. This limited storage space is now impacting this year's vintage, with wineries unable to crush the typical amount of grapes. Wineries are hesitant to offer any new contracts to grape growers as a result. A lack of container and shipping availability has further exacerbated efforts to free up storage coming into the 2022 vintage.
New year, new vintage
Favourable seasonal conditions will see an above average year for red wine grape production. White wine grapes are expected to see a slight drop in volume. Unfortunately, the lack of storage space and ongoing trade tensions from China have seen wine grape prices tumble with Shiraz grapes falling from $650/tonne in 2020 to just $350/tonne in 2022. White wine grape prices have held up slightly better due to lower volumes. This is putting pressure on growers, as those without sale contracts are highly unlikely to find a buyer for their grapes in 2022. As a result, a large number of grapes will be left on the vine to rot this season. This may lead some grape growers to exit the industry over the next 12 months.
While export and market conditions remain challenging, there are opportunities for Australian producers. The recent signing of the Australia-United Kingdom Free Trade Agreement will remove further trade barriers between the two nations when in effect. The UK is now our top wine export destination with $484 million worth of wine exported to the British last year. Premium wines have recorded a particularly large increase in demand. Unfortunately, the UK is considering increasing the tax paid on drinks containing more than 11.5 per cent alcohol content, which includes most wines. This will negate some of the benefits of the FTA, though the changes remain a proposal for the time being.
The recovery from COVID-19, paired with the reopening of international borders will see domestic wine consumption jump. While this won't come near replacing the lost exports to China, it may help soften the blow. We may also begin to see other innovations as producers look to increase their share of the single serve drinks market. This will see the expansion of canned sparkling wine over the coming years. More and more wineries are also looking to open cellar doors to improve profit margins by selling directly to consumers. In further good news for the industry, the World Trade Organization (WTO) has agreed to examine China's tariffs on Australian wine. While a decision is not expected until May, it looms as a crucial decision for the Australian wine industry.
What lies ahead…
So, what does the longer-term future look like for Aussie wineries? It's difficult to predict until the WTO makes a ruling on China's tariffs on Aussie wine. The reopening of borders, improved labour markets and rebounding domestic demand will ensure the industry can remain upbeat about the next 12 months.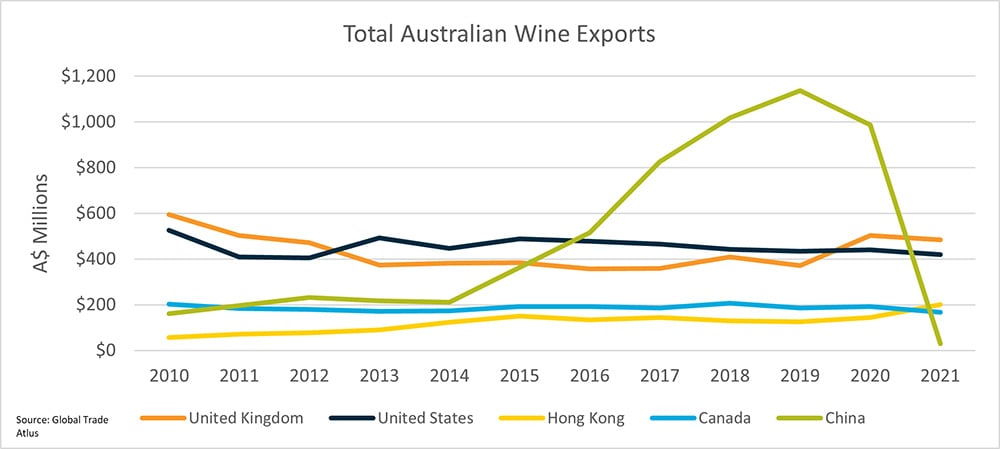 Source: Global Trade Atlas
This article is intended to provide general information on a particular subject or subjects and is not an exhaustive treatment of such subject(s). The information herein is believed to be reliable and has been obtained from public sources believed to be reliable. Rural Bank, a Division of Bendigo and Adelaide Bank Limited, ABN 11 068 049 178 AFSL/Australian Credit Licence 237879, makes no representation as to or accepts any responsibility for the accuracy or completeness of information contained in this report. Any opinions, estimates and projections in this report do not necessarily reflect the opinions of Rural Bank and are subject to change without notice. Rural Bank has no obligation to update, modify or amend this article or to otherwise notify a recipient thereof in the event that any opinion, forecast or estimate set forth therein, changes or subsequently becomes inaccurate. This article is provided for informational purposes only. The information contained in this article does not take into account your personal circumstances and should not be relied upon without consulting your legal, financial, tax or other appropriate professional.
Subscribe to insights today
Receive reports direct to your email by subscribing to Rural Bank Insights.