Tom Herbert (Junior Data Analyst)
Australian farmland recorded another year of strong growth in 2021. The national median price per hectare rose by 20 per cent. While growth was a key theme across most of the country, there were regional differences. In this article, we explore the three regions which had the largest annual growth and three regions where values declined.
The strongest growth regions
South Tasmania (+50.9%) – South Tasmania led the way in 2021 with the largest annual growth in median price per hectare of Australia's regions. Interestingly, this strong growth followed three consecutive years of decline for the region. Growth in 2021 came on the back of strong demand for grazing land, vineyards and orchards. The firm demand for land was met with tight supply as the number of transactions was 40.7 per cent lower than in 2020.


South West Western Australia (+46.6%) – In second place was the South West region of Western Australia, a relatively small region south of Perth. This followed eight consecutive years where the median price remained relatively stable. The region roared back into life in 2021 as a rise in lifestyle focused buyers boosted demand. Additionally, a strong red meat sector helped put upward pressure on land prices.


Northern Western Australia (+38.7%) - Another Western Australian region rounds out the top three growth regions. Northern WA had the third largest growth in median price per hectare across Australia in 2021. On the back of two strong cropping seasons there was a rise in demand from larger operations to buy land and expand their properties. Increased activity from corporate buyers also supported the strong upwards trend in prices.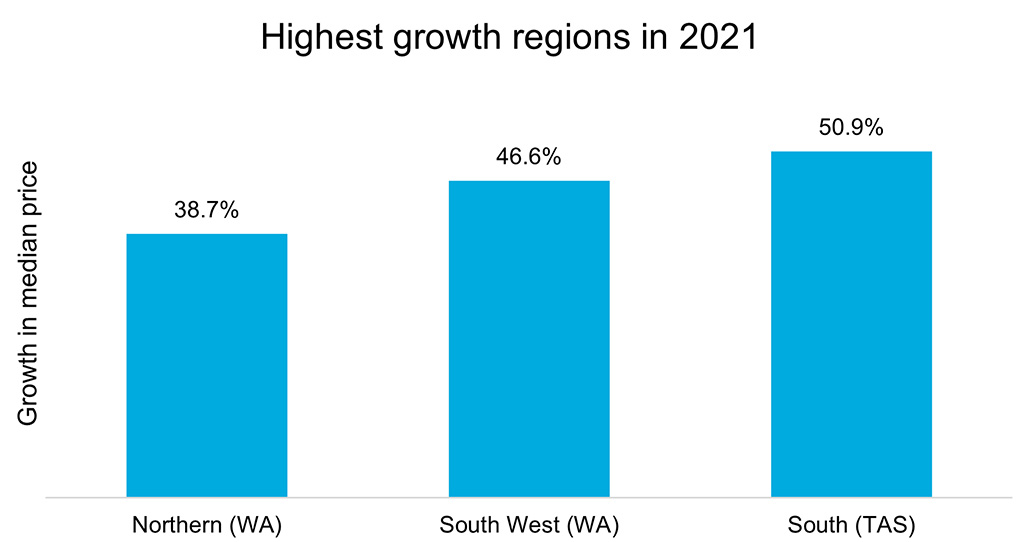 Honourable mentions: four other regions recorded median price growth of over 30 per cent in 2021. These were South West Victoria (+35.2%), West Queensland (+33.6%), Eastern WA (+31.7%) and the Eyre Peninsula (+30.2%).
Three regions where values declined
Yorke and North, South Australia (-8.7%) – Yorke and North experienced the largest decline in median price in 2021. This followed strong growth of 29.9 per cent in 2020. The decline in 2021 comes on the back of a rise in transactions in the Far North. This is a relatively lower-priced area which pushed the region's median price per hectare downwards. There were signs of growth in other parts of the region such as the Yorke Peninsula and Lower North.


Adelaide and Fleurieu, South Australia (-7.7%) – The Adelaide and Fleurieu region had the second largest decline across the country. Despite this drop, price trends within the region actually performed well. All municipalities besides Barossa and Alexandria saw rises in median price per hectare. The driving factor for the region's decline was a greater proportion of transactions in lower priced areas like Kangaroo Island.


Central New South Wales (-0.5%) – Central New South Wales was the final region to record a decline in median price across the country. Again, there were signs of growth within the region. All municipalities except for Bathurst and Singleton saw an increase in median price. The modest fall in this region can be attributed to a greater proportion of larger properties traded in the Central West.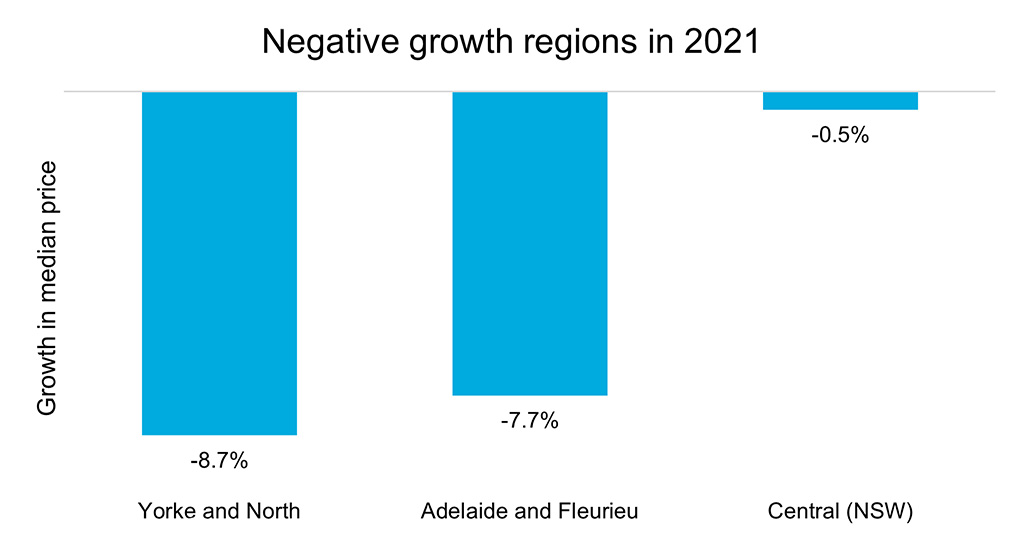 These regions recorded the strongest percentage growth and the largest declines in median price per hectare for 2021. For more detail on all 27 regions across Australia subscribe to Rural Bank Insights and download our Australian Farmland Values report.
This article is intended to provide general information on a particular subject or subjects and is not an exhaustive treatment of such subject(s). The information herein is believed to be reliable and has been obtained from public sources believed to be reliable. Rural Bank, a Division of Bendigo and Adelaide Bank Limited, ABN 11 068 049 178 AFSL/Australian Credit Licence 237879, makes no representation as to or accepts any responsibility for the accuracy or completeness of information contained in this report. Any opinions, estimates and projections in this report do not necessarily reflect the opinions of Rural Bank and are subject to change without notice. Rural Bank has no obligation to update, modify or amend this article or to otherwise notify a recipient thereof in the event that any opinion, forecast or estimate set forth therein, changes or subsequently becomes inaccurate. This article is provided for informational purposes only. The information contained in this article does not take into account your personal circumstances and should not be relied upon without consulting your legal, financial, tax or other appropriate professional.