Sean Hickey (Agricultural Analyst)
Background
Global fertiliser prices near record highs in 2021
Rising input prices have been one of the main talking points within agriculture over the past six months. We expect prices to remain at near record highs ahead of planting for the 2022 season. This post looks to explore the factors behind rising input prices and the impact this will have upon Aussie farmers in 2022.
Record high energy prices and freight costs are adding insult to injury
The recent export restrictions announced by both China and Russia saw input prices surge in the back half of 2021. China remains the largest supplier of phosphate globally. Over 30 per cent of MAP fertilizer is produced within China alone. The restrictions on phosphate exports from China are of particular concern. Phosphate remains a key component of both commercial fertiliser and herbicides, including glyphosate. This is a significant concern for growers, with most of Australia's phosphate-based fertiliser (MAP & DAP) currently imported from China.
On top of export restrictions, high energy prices are further impacting fertiliser production. China's efforts to reduce its reliance upon Australian coal have impacted its electricity supplies. This has caused volatility in energy availability, slowing fertiliser production further. Energy prices remain one of the main costs to fertiliser production. On top of this, significant spikes in gas prices across the EU were recorded over the past few months. Gas generally accounts for 80 per cent of fertiliser production costs in Europe. When paired with high coal prices, it's becoming more unviable for many EU producers to operate at full capacity. These production cuts across the EU are further exacerbating the global fertiliser supply crunch.
Local Australian producers are also feeling the impact of high gas prices. Incitec Pivot has announced plans to shut down its Gibson Island fertiliser plant due to limited gas supplies. This is one of Australia's largest plants currently in operation, so supply will be further impacted.
High freight prices and limited container availability are also impacting fertiliser imports. As economies reopen over summer it is hoped freight availability will improve. Hopefully this will reduce some of the logistical challenges for importers heading into 2022. It is also hoped that global energy prices will ease over the coming months, improving global fertiliser production.
How is all this going to impact Aussie farmers?
It remains to be seen how difficult it will be for Australian farmers to gain access to fertiliser in 2022. Notably, Australian producers import almost 80 per cent of their phosphate rock supply. Generally, over 65 per cent of this supply is imported from China alone. As a result, DAP and MAP imports are likely to be sourced from Morocco, the Western Sahara and potentially the US. These countries are the second, fourth and fifth largest phosphate producers globally. Due to this, phosphate prices are likely to remain at elevated levels throughout 2022. Urea and DAP prices are also currently substantially higher than the corresponding period last year. Prices are expected to remain volatile over the short term as energy prices and export policy changes dictate price moves.
As a result, growers will need to make changes to ensure next year's crops remain profitable. The number of farmers utilizing variable application technology will likely rise. A reduction in the application of fertiliser per hectare is also expected. This drop in fertiliser use may see a short-term fall in crop yields. Whether or not this will flow through to an increase in food prices remains to be seen. As growers reduce their reliance upon inputs, improvements to soil health may be the longer-term result. These improvements to soil health will hold many farmers in good stead over the coming seasons.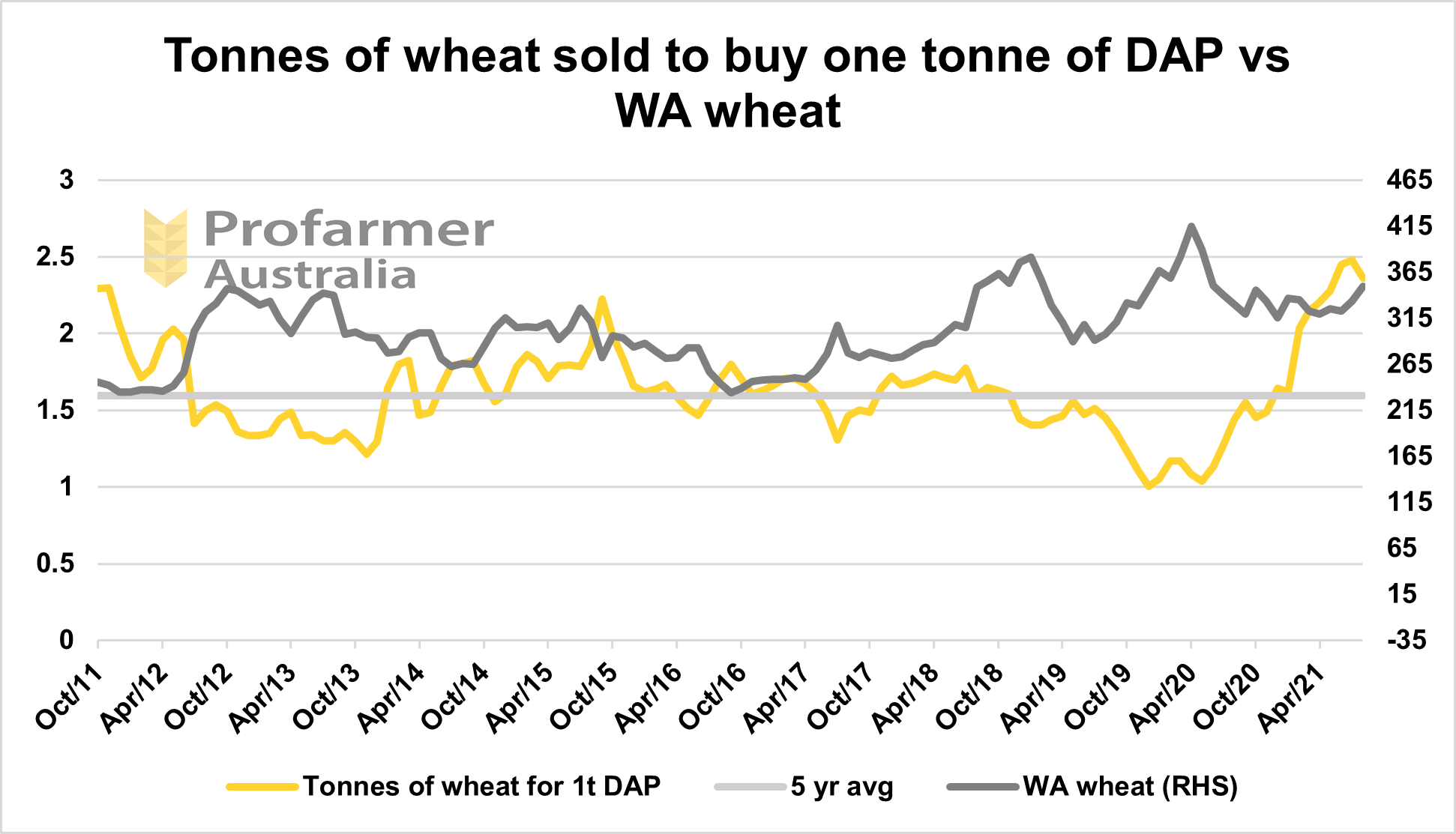 As seen above, the tonnes of wheat sold to purchase DAP fertiliser has risen from 1 tonne in late 2020 to almost 2.5 tonnes in 2021, well above the five-year average.
Source: Index Mundi and Profarmer Australia
This article is intended to provide general information on a particular subject or subjects and is not an exhaustive treatment of such subject(s). The information herein is believed to be reliable and has been obtained from public sources believed to be reliable. Rural Bank, a Division of Bendigo and Adelaide Bank Limited, ABN 11 068 049 178 AFSL/Australian Credit Licence 237879, makes no representation as to or accepts any responsibility for the accuracy or completeness of information contained in this report. Any opinions, estimates and projections in this report do not necessarily reflect the opinions of Rural Bank and are subject to change without notice. Rural Bank has no obligation to update, modify or amend this article or to otherwise notify a recipient thereof in the event that any opinion, forecast or estimate set forth therein, changes or subsequently becomes inaccurate. This article is provided for informational purposes only. The information contained in this article does not take into account your personal circumstances and should not be relied upon without consulting your legal, financial, tax or other appropriate professional.
Subscribe to insights today
Receive reports direct to your email by subscribing to Rural Bank Insights.