Working from home
Patrick Mulcahy | Mon, 20 Jul 2020
Covid has thrown a spanner in the works for my graduate program. My office has become my bedroom, which has cut down on my commute time.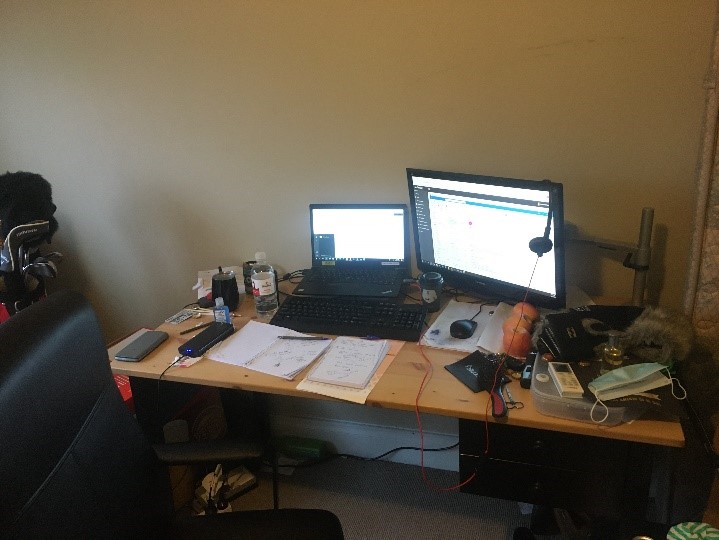 My day generally kicks off at 9, where there is a virtual coffee in the calendar with my team. Having been going for a number of months now most people sporadically make an appearance in that meeting now so it is normally just me and one other guy, and we just chat about the footy, his cat or whatever is going on at the moment. After the meeting I head down the street to a local café to get my coffee fix as well as support local business. There is a patisserie next door to the café that I will often stop in and grab a croissant. Then I come home and get the work under way. I am still in the Insights team and getting to the end of my rotation, although what is happening next has a little uncertainty around it still with Melbourne back in lockdown.
Having been in the rotation for a while I have become part of the team and have a fair bit of independence and responsibility. There are weekly and monthly reports that I now complete individually and put my name to. I provide insight to end users about domestic and international grain markets and provide insight and photos for some of our international customers about crops in Australia. I am still collecting and sending out grain prices from various brokers to our subscribers. I have been trying to clean up and improve that process as I gain better understanding of grain markets and my skills improve in excel.
On top of my more regular work I have picked up some more large-scale projects. I have been leveraging the insights team knowledge to try and help the bank better model risk by looking at tracking how production and price are moving for various agricultural commodities.
While I have enjoyed my time here in the insight's rotation, I am excited for my next challenge in my next rotation. I have started slowly transitioning towards the sales team I will be working with next (assuming Covid doesn't prevent that), attending some meetings as they begin gearing up for the new financial year.
Day in the life
Patrick Mulcahy | Thu, 21 May 2020
Ag Achiever Graduate at Rural Bank
Current rotation in the Insights team working as an Agricultural Analyst.
Attended Monash University. Studied a double degree, Bachelor of Commerce majoring in Econometrics and Business Statistics and Bachelor of Science majoring in Applied Mathematics with a minor in Physics. Graduated end of 2017.
7:00 AM
Slowly roll out of bed, I've never been a morning person. Shower and breakfast before heading into work on the train.
8:30 AM
Roll into the office. Those who are not in yet roll in over the next half an hour. Someone on my team sends out a morning report around 8:00 so that person normally sends it out from home and comes in a little later. Spend some time reading emails. I receive a lot of commentary around global commodities (particularly grain markets) so I try and get up to speed on what has happened overnight in the world. When everyone is in, we head around the corner to the local coffee shop. Never was a big coffee drinker but the office culture has certainly changed that now.
9:30 AM
Begin preparing various reports. The insights team have numerous weekly and monthly commodity updates that we send out both within the business and to subscription customers. I assist the team in preparing these reports while broadening my knowledge of different commodities, many of which I haven't been exposed to before. Over the course of the day grain brokers also send in their prices for the day. It is my job to collate those prices and upload them to our pricing portal for subscribers to access and use to assist them in making decisions around buying and selling grain.
11:00 AM
Networking and business understanding are a big part of my current role, so we take any opportunities to get out and hear from experts and build our network within the industry. I went on a boat tour of the port of Melbourne to better understand how commodities are shipped out of the country as well as an opportunity to meet other people in the industry. I have also been to a few networking lunches and panel discussions about the future of agriculture.
12:00 PM
Those in the office who need something for lunch will head down the street pick up some bits and pieces. We come back and eat in the office, if the weather is nice head up to the roof to enjoy the sun and the view.
2:30 PM
By this time, we have normally received most of the grain prices we are going to get for the east coast and South Australia. I convert all this information into the best price per grade for each port zone and send out a text to all our subscribes of the best prices today and price moves from yesterday in their port zone. I also email out a pdf version of this information showing all the bids in each location.
3:30 PM
Repeat the above process for West Australia. Time zones mean we send this information out a little later.
4:30 PM
Send out any reports we have finished up over the course of the day finish up any bits and pieces.
5:00 PM
Unless there are some reports due that have dragged on now is the time to start packing up and finishing the day. Catch the train or tram home often stopping in at the supermarket on the way to pick up something to cook for dinner.
6:00 PM
Head to the gym and try and get a bit of exercise in.
7:00 PM
Prepare dinner and enjoy a bit of downtime before heading to bed.
10:00 PM
Time to recharge for tomorrow.
Looking for more?
Find more information about our graduate program, or read more graduate blogs.